BALTIMORE'S HOME OF TRADITIONAL AMERICAN BBQ
People ask me all the time; "What's The Smoking Swine all about?"
There really is only one answer: The Food.
We have no desire to be ground breaking, to reinvent what took centuries to perfect, or to be part of some trendy food movement.
We are driven by a desire to make the best Traditional American BBQ that you have ever had, provide customer service that has no equal, and to be held as the standard by which you judge all other BBQ joints.
Phone
(443) 579-4630
Location
Baltimore, MD and the surrounding areas
Hours
Visit our Facebook page for our weekly schedule
CATERING and vending info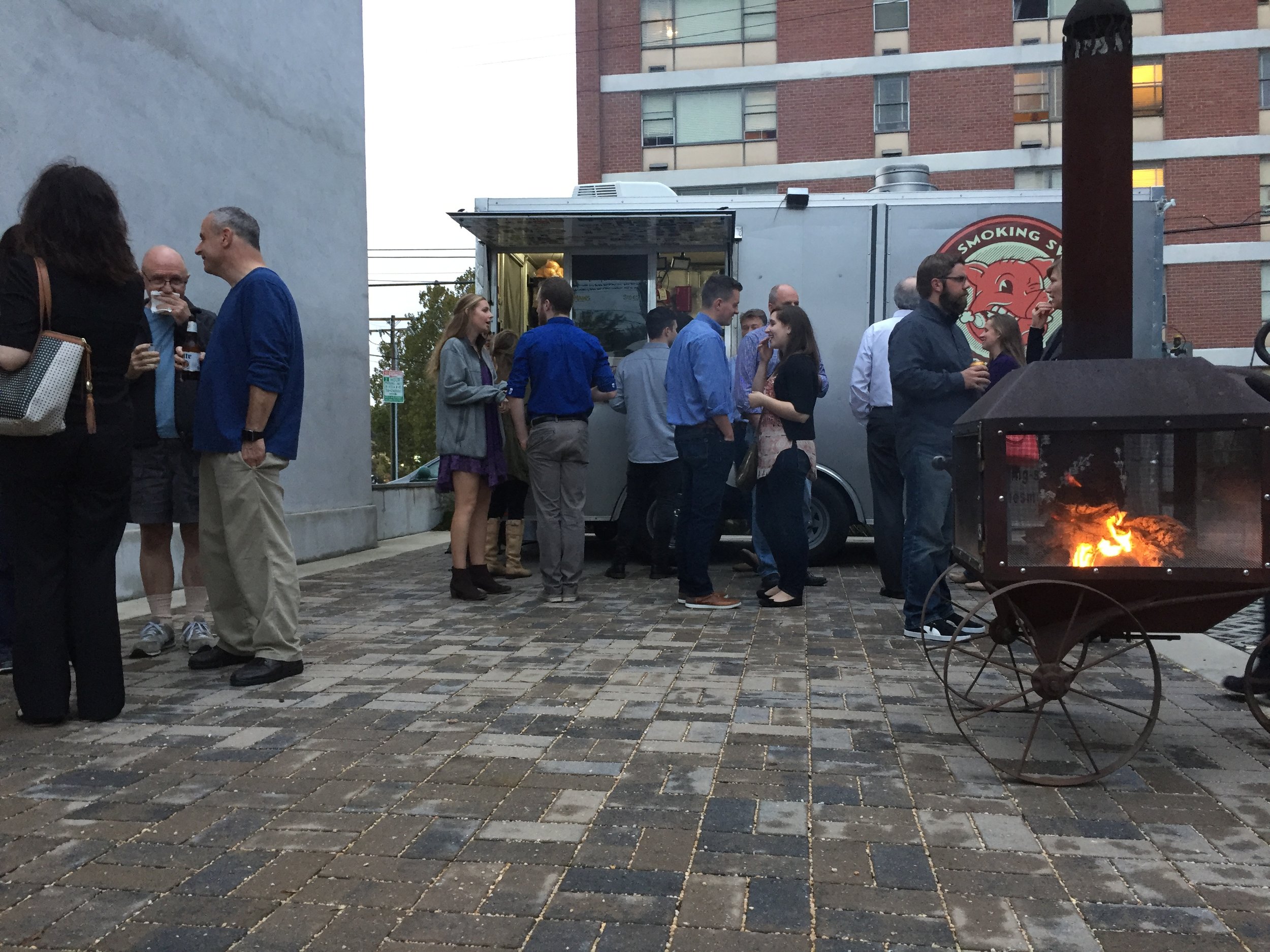 INCLUDES: Pulled Pork, Brisket, and 3 sides, for up to 60 people (Starts at $1500)
*Additional charges apply for groups over 60 and menu substitutions.
Casual and easy...we set up your food and go!
Perfect for weddings, and more "formal" occasions. Attendants will refresh the trays of food and answer any questions your guests may have.
Want us at your... (festival, concert, brewery, etc...)?
Have Us At Your Corporate Park/Place of Business
Hard to find good food where you work? Bring us to your corporate park for lunch service!
PLEASE NOTE THAT A NON-refundable DEPOSIT AND CONTRACT MUST BE COMPLETED BEFORE YOUR DATE IS SECURED. NO EXCEPTIONS!!!
EVENT/VENDING REQUEST FORM
BUSINESS PARK/CORPORATE LUNCH SERVICE REQUEST FORM
due to the nature of the food truck business, our schedule is not only weather and parking dependent, but it can change at any time.
It is for that reason we ask that you look at facebook or Instagram for our most current schedule. We apologize to those who do not engage in social media, but it is the quickest and most effective way to get our schedule out.
UPCOMING EVENTS
(special events only…not street service)
FAQ's
CATERING:
Q: How much does it cost to bring the truck to a venue?
A: Our starting price is $1500. This includes: a 3 hour service window, a basic menu of Pulled Pork, Brisket, Mac and Cheese, Baked Beans, and Coleslaw; enough food for up to 60 people.
Q: Will you bring your truck out to an event with less than 75 people?
A: Absolutely, for the starting price of $1500.
Q: When I get catering, is it all you can eat?
A: No, we price our catering by average portion size per person. If you have a group of big eaters, or would like more of one or two items, we can definitely work with you!
Q: Do you do drop-off or pick up catering?
A: Yes, we do drop off, but we need to evaluate on a case by case basis on what jobs we can accomodate.
Q: Do you provide a catering contract for catering events?
A: Yes, we do. All catering jobs will have a contract attached to it.
Q: How far will you travel for catering?
A: We take catering jobs on a case by case basis. Any job outside of a 20 mile radius will have a travel fee attached to it.
MENU:
Q: Why do you have such a limited menu on the truck?
A: Well, first of all, we are a food truck, so size is a consideration for everything we do. Secondly, when was the last time you went to a restaurant with a HUGE menu where everything was made exceptionally well?! We keep our menu small so we can focus on quality over quantity.
Q: "What's the difference between this sandwich and that sandwich?"
A: For the love of god, please read the menu descriptions!!!
Q: Do you accomodate vegan or vegetarian requests?
A: We have existing menu items that are vegetarian (Mac and Cheese, Cucumber Salad, and Coleslaw).
Vegan...Absolutely NOT. Nothing against our vegan friends, but the way we prepare our items in our day to day operations does not lend itself to the strict standards of food preparation that vegan food requires (we don't want to cook your BBQ'd jackfruit sandwich on a gluten free bun on the same grill we just cooked 10 lbs of bacon on).
Q: "I have a latex allergy. Do you use latex gloves when cooking?"
A: No. We use Nitrile gloves so those with latex allergies can still enjoy our food.
Q: Why do you call your Mac and Cheese, "Slap Yo Mama Mac and Cheese"?
A: No, of course we don't advocate seriously slapping your mother..."The origin of this phrase traces its roots to the southern states of the U.S. When first coined it meant someone had just tasted something so delectable it caused them to be angry towards their mother for never creating food equally as tasty... angry enough to slap her." It really is that good! So calm down...It's a good thing!!!!
OFFICE PARK SERVICE AND EVENTS:
Q: HOW CAN I GET YOU TO COME TO MY (office, building, etc...)!!??
A: We need the following info...What county are you located in? What is the contact info of the management company that owns your building? Approximately how many people are in your building? We are ALWAYS open to going to new places, so send it to info@thesmokingswine.com, and we will try our best to get there!
Q: We want your truck at our event!? How big is the truck?

A: We have a 42' trailer and truck. Client must verify that we are allowed to park at the event location site. If, for any reason, The Smoking Swine is unable to park at the event, all monies, and product for the event, in full, will be retained by The Smoking Swine.
MISC:
Q: What kind of smoker do you use?
A: We use a Cookshack on the truck and a Lang and Southern Pride for larger events.
Q: Do you serve alcohol on your truck?
A: At this time we do not...please don't ask anyway.
Q: How was it working with Guy Fieri on Diners, Drive-Ins, and Dives?
A: He was a super cool dude! Very down to earth and (he) is very into seeing small business thrive! We had a blast shooting with him and his crew (Super shout out to Citizen Pictures...we LOVE you guys!)